Schedule Overview
2016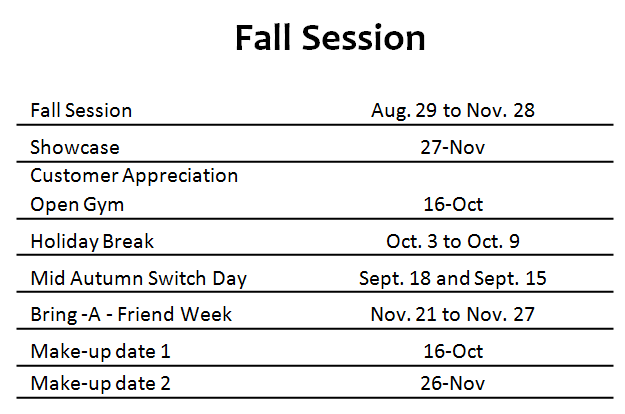 2016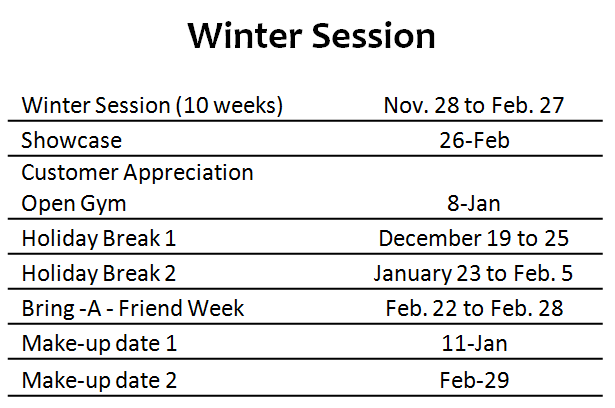 2017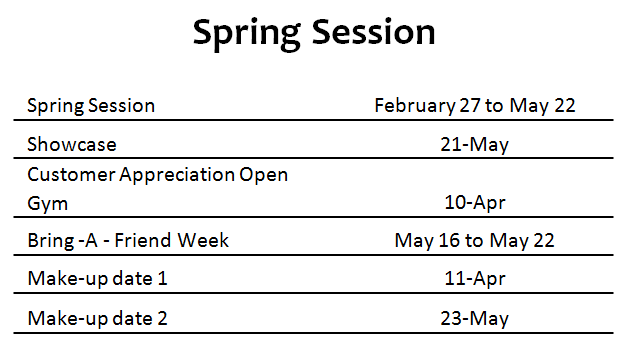 2017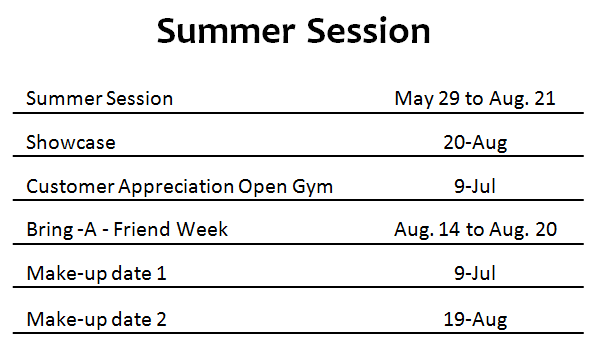 12 week session classes
Cheer Classes
Beginning Cheer Youth
Beginning Cheer Jr.& Sr.
Stunt Classes
School Stunt Group
Tumbling Classes
Beginning Tumbling
Boys Beginning Tumbling
Intermediate Tumbling
Senior Intermediate Tumbling
Advanced Tumbling
Elite & Premier Tumbling
Summary
These classes will award certificates at the end of the session.
Classes will track tumbling skills and your athlete's progress will be recorded and posted on the wall.
All athletes in these classes will have the opportunity to perform at the end of the session at the Varsity showcase.
All athletes that follow the policies will have the opportunity to attend the two scheduled make-up classes.
The classes in the tumbling program are designed to build a well-rounded tumbler, teaching all aspects of tumbling from the beginning of their tumbling career up to the highest levels of tumbling.
Beginning cheer class is a great place to start your cheerleading career as it encompasses all that cheerleading has to offer.
School Partner Stunt will be for athletes from the same school who are interested in competing, and showing their new skills during school events.
4 week session classes
Cheer Jumps
Top Girl Class
Motion, Strength, and Flexibility
Coed Partner Stunt
Partner 4 Stunt
All Skills Tumbling
Back Handsprings (start to end) Tumbling Series
Trampoline Skills
Mini Jazz Tech
Mini Hip Hop Tech
Mini Freestyle Pom Tech
Junior Jazz Tech
Junior Hip Hop Tech
Junior Freestyle Pom Tech
Senior Jazz Tech
Senior Hip Hop Tech
Hip Hop Floor Work
Leaps and Jumps
Turn Progressions
Flexibility, Extensions, and Kicks
Summary
Technique, Skill, and Series classes are designed to complement and assist in achieving your goals for team practice, as well as assist in achieving skills in conjunction with the tumbling program.
Technique, Skill, and Series classes' curriculum is created to help your athlete focus on specific skills to ensure their improvement in team practice and performance.
These classes are not certificate courses and are meant to perfect existing skills or learn new ones.
These classes can also be used for new customers that would like the opportunity to try multiple styles and aspects or components of cheerleading with low commitment.
Rec. Teams
Recreational Jazz Team
Recreational Hip Hop Team
Recreational Freestyle Pom Team
Recreational Mini Cheer Dance Team
Recreational Mini Cheer Team
Recreational Cheer Team
Rec. Comp. Prep Teams
Rec. Comp. Prep Jr/Sr Cheer Team (Tigers)
Rec. Comp. Prep Juniors Cheer Dance Team (Elephants)
Rec. Comp. Prep Mini's Cheer Dance Team (Baboons)
Rec. Comp. Prep Senior Cheer Dance Team (Leopards)
Rec. Comp. Prep Senior Hip Hop Cheer Dance Team (Pythons)
Summary
Team Atmosphere
The opportunity to learn life skills through a team sport.
Development of confidence and courage.
Mentally and physically challenging in a safe and encouraging environment.
Learning the core components of one of the world's fastest growing sports.
Our Rec. Teams are designed to introduce athletes to performance based cheerleading.
Athletes will begin this process by learning the different components of a routine during practices.
Once they have confidently achieved skills in practice, they will work as a team to create a routine.
They will perform this routine for friends and family multiple times throughout the season.
Confidence, courage, and hard work in preparation are necessary in order to have great performances!
Practices will all be geared toward perfecting routines to be performed. An emphasis is placed on learning choreography, performance skills, and working as a team. Being a member of a Rec. Team requires discipline, dedication, and respect for peers.
Because the performance routines will be set in formations, athletes will learn responsibility and how to work with their teammates.
Athletes involved in the Rec. Teams are encouraged to also participate in technique classes to perfect their skills.
For more imformation, please contact us at 020-37031336/020-37031330
Varsity Cheerleading Academy
Address: Zhuguang Newtown International Center Block A, 4th Floor
Qingyi Street No.1, Zhujiang Newtown
Tianhe District Guangzhou City.
(Metro Line 5, Exit D, next to Zhujiang Park)
Tel: 020-37031336
Website: www.varsity.com.cn / www.varsity.com
Wechat ID: varsitychina